Troy Young's message hit my inbox in September 2013.
He was a fan of the Good Life Project. He loved the content and the fuller conversations it allowed for. And being a broadcast video editor from Toronto, he also appreciated the production values we were bringing to online video.
So, he made me an offer:
Thank you so much for creating The Good Life Project, it has become part of my morning ritual, relaxing with a big tea and an inspiring interview before I start my day. One of my goals this year is to start doing more meaningful work, work that helps add value to people's lives. I've been a video editor in the broadcasting industry in Toronto for the past 18 years and really enjoy what I do…I assume you have a regular editor who edits your interviews but if you ever need someone to fill in I would love to volunteer my services to you.
I replied with a quick note, thanking him for his kind words and his offer and letting him know we were all set on the production side for the time being.
End of story, right?
Not even close…
A month and half passes. We air the GLP episode that features design icon, Milton Glaser. At the end of that conversation, Glaser and I talk about one particular question I asked and how so many people have answered the same question differently.
Lightbulbs go off in Troy's head. He starts going back through five seasons of shows to see for himself.
Then, he emails me:
…You did an interview a while back with Milton Glaser… You talked about how surprised you were at the number of different answers.  At that moment the little bell went off in my head and I asked myself what would that sound like? So I assembled a montage…. A very simple idea but a very powerful result. I think if you're living The Good Life it will put a smile on your face and if you're not living The Good life it will fire you up (In a good way)!!
He includes a link to a private page that hosts the 4-minute video.
My wife is standing next to me. We watch it together. As the video wraps, we're both near tears. For a couple of reasons.
One, Troy did a beautiful job. He's right. It's really powerful.
Two, in a moment, my wife and I both realize Good Life Project has moved beyond the project stage and, somewhere along the way, become a body of work.
Three, to think that someone would do this, as a pure give on their own time, in appreciation for the work we're putting out into the world, is incredibly inspiring and deeply humbling. It reconnects you with why you do what you do.
Immense gratitude to Troy for giving me not only the gift of the video, but an invitation to reconnect with my why.
Okay, okay. So, by now you're wondering…
WHEN CAN I SEE IT?!?!?!
Right now!
We're premiering Troy's moving Good Life Project montage on the newly launched GLP homepage.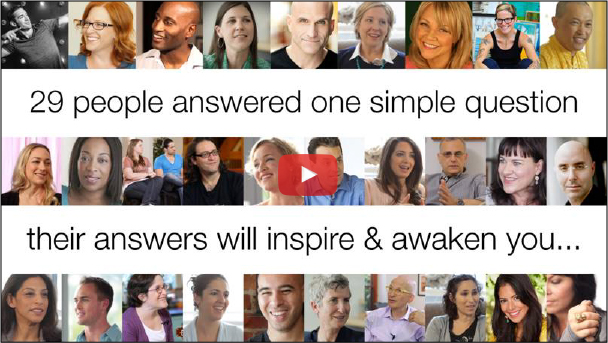 Please go check it out. If you like it, share it. And give Troy a big shout out for his big heart and beautiful work.
With gratitude,
Jonathan
Join our Email List for Weekly Updates
And join this amazing community of makers and doers. You know you wanna...
7 responses
7 responses to "The Unexpected Gift That Moved Me To Tears"