Busyness. It's a problem.
But, what if there was something deeper happening? An epic battle between intention and surrender that is both a source of profound pain, and an unlock key for life unbounded? And, along with that, an undiagnosed condition—Reactive Life Syndrome—that so many of us are living with, without even knowing it, or understanding there's something we can do about it.
Unbusy: A Manifesto is your awareness wake up call. An inciting incident that shakes you from living an autopilot, reactive and maniacally busy life into owning the possibility and responsibility to choose your behavior from this moment forward. To reclaim your humanity. To live from a place of intention, space and grace. To remove yourself from the weight of Reactive Life Syndrome and mindless, autopilot busyness.
Click on the image below to instantly download and read it. Then, do one more thing. Live it.
If what you've just read resonates, please share this manifesto with those who need to see it, hear it, feel it and be moved to do something about it.
With a whole lotta love & gratitude,
Jonathan
++++++++++++++++++++++++++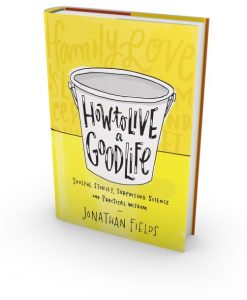 My new book, How to Live a Good Life: Soulful Stories, Surprising Science and Practical Wisdom, is now available for pre-order. Pre-order your copy by October 18th, 2016 and we'll plant a tree for every book ordered!
You can download and read the first chapter for free here, then pre-order your copy and help us plant a Good Life Forest (we're over 5,000 trees already!). 🙂
Join our Email List for Weekly Updates
And join this amazing community of makers and doers. You know you wanna...
6 responses
6 responses to "Unbusy: A Manifesto"