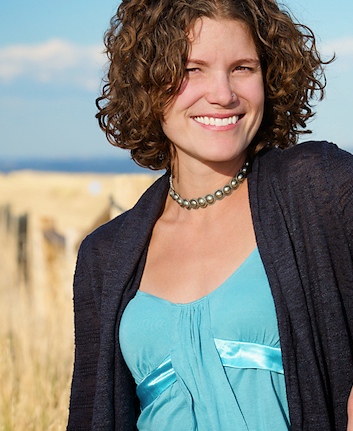 I don't believe people who say they don't know what they're passionate about.
They do know.
YOU know.
What you want to be when you grow up has been in your head since you were 6. At least the pieces, the core qualities that matter.
But we get so wrapped-up in pre-judging the perceived "non-viability" of the things that light us up that we tell ourselves they don't actually light us up anymore. Because that's easier than saying we know what makes us breathless, but refuse to act on it because we have no clue how to make it into a living?
And we're terrified of failing and being judged.
Enter one extraordinary woman, Majka Burhardt.
She's a walking, talking poster-child for turning play into pay!
Over the past two decades, Burhardt has built a life and career around adventure, travel and storytelling. A professional rock climber, sponsored by Patagonia, Scarpa, Petzl, Osprey and others, she's taken her passion for the outdoors and blended it with a mad jones to write, to share and, more recently, make movies.
Heading off to parts of the world others often avoid, she leverages the outdoors as a source of connection, challenge and, often, as a teacher. It's not so much the physical risk that draws her to climb, but rather the chance to push her personal edge, to learn, to feel alive.
In living her life from a place of absolute possibility, she serves as an extraordinary example of what happens when you surround yourself with the right people and refuse to let go of the things that cultivate an enduring sense of childlike wonder.
Burhardt's current focus and next big adventure will take her and a team of rock climbers, scientists, energy and resource investigators and filmmakers to Mozambique. Their quest, to climb and gather scientific data about a 7,936-foot granite monolith known as Mt. Namuli. She'll be sharing the adventure in the forthcoming documentary film, The Lost Mountain.
And this time, it's no so much the mountain that's scary, but the things that live on it…
As she shares in this week's episode of Good Life Project, there's a snake that lives on the mountain that's no bigger than a twig and, if you get bitten, you bleed out of every orifice and die within an hour. And, yes, during their scouting expedition, they encountered one. Ack! But, it's all part of the adventure.
Beyond talking about spooky snakes and big rocks, we also explore Majka's thoughts on assessing and living with risk, her pursuit of a career that blends climbing, travel, writing and filmmaking, how what she does evolved organically out of what she loved to do as a kid and her unique lens on what it means to live a good life.
Go watch this week's episode of Good Life Project now.
And be sure to subscribe so you don't miss any future episodes (plus, you'll get instant access to the mp3 Audio Vault).
————–
Photo credits: Celin Serbo | Anne Skidmore
Join our Email List for Weekly Updates
And join this amazing community of makers and doers. You know you wanna...
3 responses
3 responses to "Turning Play Into Pay"