When was the last time you felt truly lit up?
When was the last time you felt surrounded by people who just GOT you, embraced you, loved and exalted you?
When was the last time you stepped out of your daily grind, hit pause and stepped into a lush nature-meets-camp playground that served as a total mind-body-spirit reset?
When was the last time you simultaneously learned things that would take your career or business to the next level, while having more fun than you've had in years with people you could not get enough of?
When was the last time you felt you were THE REAL YOU and that was utterly okay?
If you can't remember, then you need to come and join me and an amazing, global family of soulful entrepreneurs, makers and world-shakers at this year's Camp GLP.
If you don't already know what it is, here's all the detail.
We've also just announced the workshop and keynote line-up for this year's gathering (you can find it on the links on the camp page, too). It's an amazing blend of experts that range from top marketers and entrepreneurs to legendary meditation teachers and more.
We've got people who've been on Oprah, written mega New York Times bestsellers, we've got others who've been to the top of mountains, launched international brands and dug wells for waterless villages in Africa. We've got people who've built huge companies, led industries and played on the biggest stages in the world.
There will be an amazing gathering of accomplished, mission-driven people from all over the world to be with and learn from.
But, honestly, the coolest thing is…
At Camp GLP…NOBODY CARES!!!
Titles, careers and resumes really don't matter.
It's not about what you have or haven't done, whether you've got it all dialed in or are just figuring things out. Last time I checked, we were all human. Worthy of equal respect, dignity and big, giant hugs.
What we really talk about is how to build things that make a big difference in peoples' lives, starting with yours. We talk about how to write the story of your life in a way that others won't be able to put down. We talk about the art of coming alive, reconnecting with what matters and reclaiming not just your vocation, but your identity and vitality. Not when you return home, but right there, in the moment.
You will learn a ton, on every level, strategic and tactical, but with a very different ethos and conversation. No pedestals, no expectations, no need to posture or position, no fear of being left out or not feeling worthy.
And, we don't just talk, we do. And play, And connect on a level most of us thought was no longer possible.
The conversations you'll find yourself melting into, the laughs you'll find yourself giggling through and the warmth of shared values, beliefs and aspirations you'll find yourself wrapped in will make everything else icing on the Camp GLP cake.
Oh, and in case you haven't grabbed your spot by now, did I mention the final $100 discount ends in just a few days on June 30th? LOL. So go do it now.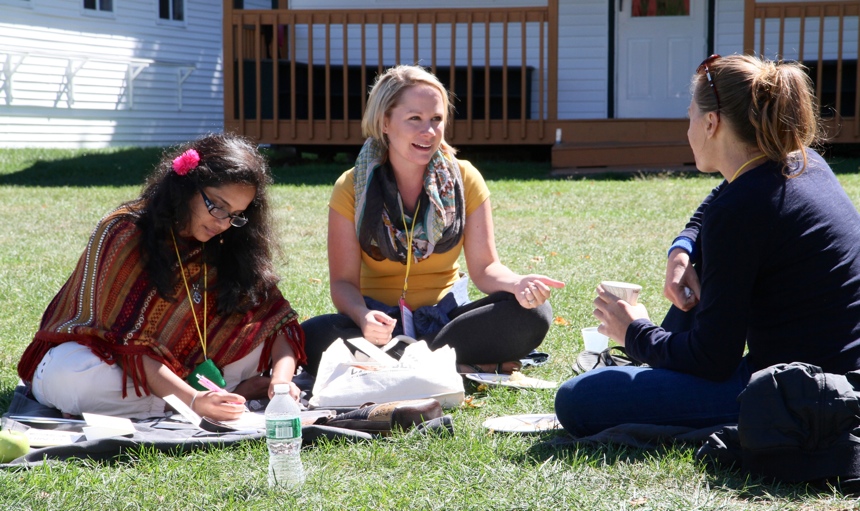 By the way, here's what a few campers had to say from last year…
How do I even begin to start talking about what this past weekend was like? There are endless reasons why I almost didn't even go, and I will be forever grateful that I did….

I never thought that I would be this happy, have this kind of belonging, that I could tell people I knew for two days "I love you" and mean it, that I could use phrases like "weeding my spiritual garden" and not be looked at like I have three heads.

As I was leaving camp the woman I had picked up at the train a few days before said "whenever I looked over to you, you were just glowing", and that is exactly how I felt. – Jess Getty

These were resourceful, growth-minded individuals who were committed to creating positive change. They were seven-figure entrepreneurs and people still trying to make an impact within the confines of a corporate job. They were people who "got it".

More importantly, they got me. All of my life I've felt like a bit of an outcast. It's lonely when you choose to rebel against the status quo. It's hard to find people who share that worldview, almost by definition. But when you do find them it feels incredible. For one of the few times in my life, I felt like I belonged. – Greg Faxon

I went to be inspired and recharged. I've been self-employed for 21 years now and have never done anything like this. It sounded like a good idea. Workshops about building community mixed with arts and crafts. That's for me, right?  So, I signed up!

Leading up to it I was pretty nervous. Do I really want to head to camp with a whole bunch of people I don't know? Am I really up for this?… Wow. Just Wow… So glad I was brave enough to go. I learned so much for work but for my whole self too. – Katie Pertiet

There were so many breakthroughs, so many new friends made, so much laughter, so much enthusiasm and a crazy energy that has connected us all together in amazing ways… At Camp GLP, that collective energy expansion happened everywhere… so much momentum now carrying us forward back into life. – Sam Sutherland

I needed new tools, strategies and skills to help me thrive in this new world… I showed up with one goal – Be myself… Fully, authentically, all of me…. I felt magnetic and electrified. I was surrounded by the most incredibly wise, loving, and fun people… our hearts were open and we connected quite easily in  deep soul-stirring ways. I was bowled over by the belonging and connection I experienced. – Yvonne Whitelaw
Still on the fence? Really? Like, really really? LOL.
Okay, here's a little video from last year, to see what it was all about…
Now go grab your spot, especially before the final discount ends in just a few days.
Big camp hugs,
Jonathan, Stephanie and the Camp GLP Team
P.S. – Come with friends, we like them, too! 😉
P.P.S. – This may sounds weird, but Camp GLP is actually very introvert friendly! There will be tons of time to just steal away, walk in solitude, have quiet conversations with one or two new friends, read books and just create the experience you want and need. Nothing is forced, everything is there for you to co-create the experience the way you need it.
Join our Email List for Weekly Updates
And join this amazing community of makers and doers. You know you wanna...
responses