Today, I'm sharing part two in my 7 part series entitled "The 7 Lies That Keep Us From Success."
Check out the first big lie here.
Now, on to the second big lie that holds us back in art, business and life…
I'm not smart enough. There are a million smarter, more qualified and credentialed people and companies that do the same thing. People want the best and I'm not the best, so why bother?
Rather than make this another rah-rah, you're so cool confidence-building session, let's do something a bit radical. Here's the thing, you may well be right. At least about you not being the smartest fish in the pond. You may not, in fact, be the smartest, most-experienced person in your space. You may be a total newbie or somewhere on the path to craft and mastery.
No doubt, you need to raise your skill-level to a certain baseline level of value before you can command value in exchange for what you offer. But, here's the reality about who gets the gig. The vast majority of the time…
The win goes not to the smartest, but the most-responsive person.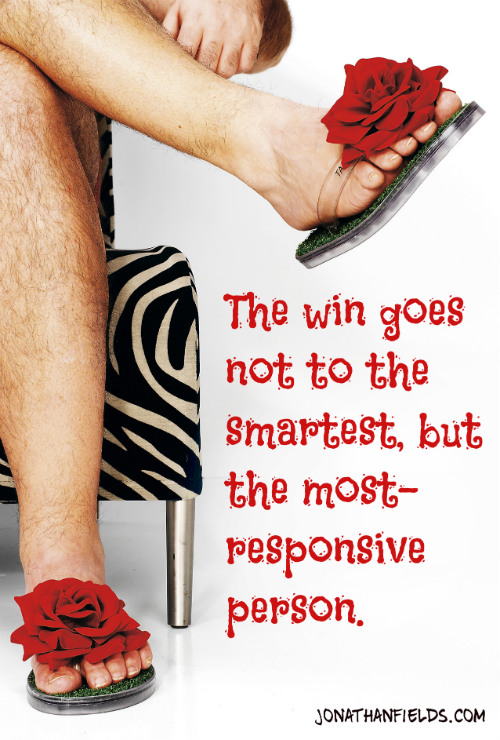 The one who shows up first. The one who returns the call or email or text. The ones who gets the need and speaks to it. I cannot tell you how many times I've left a string of messages for potential vendors saying "I've got money to spend" and only one calls back. As an entrepreneur who's a bit obsessed with service and growth-dynamics, I just don't get it. But, guess what, that's how most people and businesses operate. Sadly, extreme responsiveness has become the exception and not the rule.
So, guess who most often gets the gig? The one who shows me they want my business. Are there "better" people or vendors out there? On a pure skill level, decidedly so. But…
People don't buy skill in a vacuum, they buy skill + care.
Keep on honing your craft, building toward mastery. Don't think for a minute, though, that "being on the road" to excellence is a barrier to being paid. Exalt responsiveness in the early days and you'll be blown away by how competitive you can become with those supposed "big kids."
Over to you, now…
Curious, have you experienced this? Either on the side of seeking to hire someone or serving at a level of responsiveness that allowed you to operate in an arena you thought you'd have been shut out of based on your level of current skill?
Share your thoughts in the comments below.
With gratitude,
JF
Join our Email List for Weekly Updates
And join this amazing community of makers and doers. You know you wanna...
19 responses
19 responses to "Big Lie #2: I'm Not Smart Enough"