Every once in a while, something channels through me.
That's how Good Life Project started. December 2011, I'm thinking about my beliefs around entrepreneurship. I start to write. A few minutes later, I look at the screen and the 10 Commandments of Epic Business are staring back at me. They offer a different lens on how to build a business around the life you want to live, not the other way around. I  share them in my Annual Report. They touch a nerve and become the seed of what's now grown into the Good Life Project® media and education venture.
Middle of last year-ish, I sit down and it happens again…
I'm thinking about the lessons I've learned, building my own body of work, living into life, traveling the country and interviewing some of the smartest, most-accomplished, and most fulfilled people I've ever met. I start to type. A first draft of what becomes the Good Life Project Living Creed emerges. Thirty-three ideas, beliefs and values, my lens on key elements of a live well-lived.
I sit back, read through the whole thing and begin to shake a bit. It speaks to me. It IS me. I do a bit of refining and hit publish. I'm nervous, because it's personal. When people respond to it, they're responding not just to my ability to write, but to the core of my beliefs. Thousands of people start sharing it all over the web. It's landing softly. And electrically. I smile.
When I publish the creed, I use a peculiar name. It's not just a creed it's a "living" creed.
Why? It didn't channel through some higher being in final form. It's just a gathering of thoughts from a middle-aged New York City husband, dad and mad-creator, influenced by conversations with people far smarter than I.
It's a snapshot of my lens on the world at the moment it's written. My intent is not to stop living, growing and evolving. And my expectation is that, as I live longer into the values I've shared, I'll learn more. Or maybe I'll just realize I've left something out that should've been in. And, of course, that's exactly what has happened.
Today, I'm excited to share the release of the Good Life Project Living Creed 2.0.
I've added two new lines: "Move your body, feed your brain" and "Make meaning." I'd thought the sentiment was already baked into the original, but realized these two key beliefs needed to be a bit more blatant. I've also had a fun new letterpress-style created by the super-cool Nikki Clark.
Click on the image below to see it full-size for easy reading.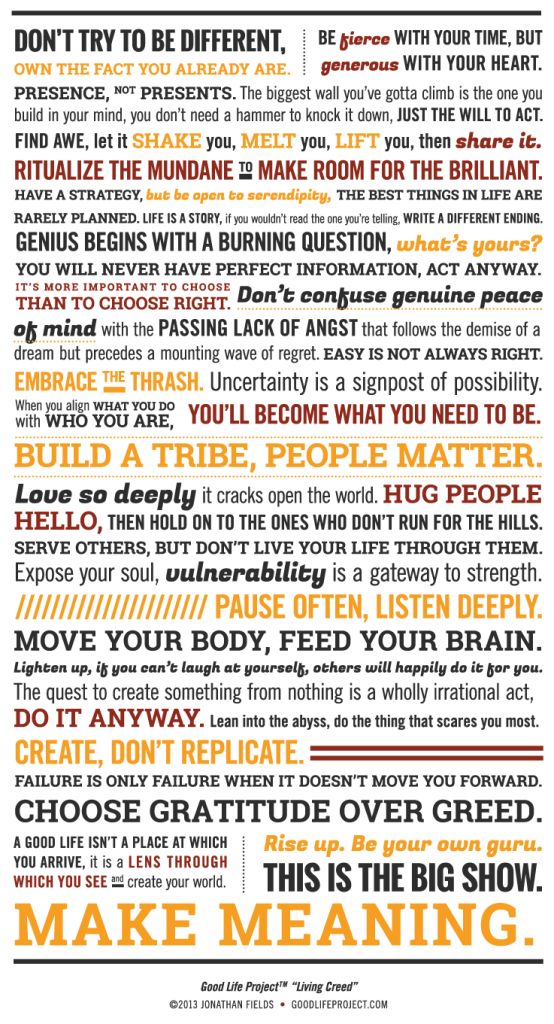 +++
Are you ready to embrace your potential? Make 2014 your breakout year. Immerse yourself in 6 life-changing days in Costa Rica and 7-months of personal and business elevation training with the 2014 Good Life Project Immersion.
Join our Email List for Weekly Updates
And join this amazing community of makers and doers. You know you wanna...
1 response
One response to "35 Ideas That Just Might Help You Live a Better Life"