What if instead of 
fighting to build a traditional career, business
 or brand, you could tap the power of movements and revolutions to launch and 
build a fast-paced engine of growth and impact?
Imagine what it would be like to put your work, art, ideas, heart and soul into the world and have them touch off a movement or revolution. One that inspires thousands of people to not only "buy your stuff," but come together to help you build a thriving brand, business, career or body-of-work.
Is that even possible?
Turns out, the answer is…yes!
Over the last few years, my total geek-fest of a research project led me down a crazy rabbit hole, exploring the intersection between revolution-dynamics, story-architecture, social dynamics and technology and linguistic influence patterns. Eventually, an integrated framework began to emerge. A way to tie it all together and apply it in the world of art, business and pretty much any kind of mission-driven venture.
This project was never supposed to be public. But, last year, I shared my findings in a private event and, how do I say this, the genie pretty much exploded out of the bottle. Over the next few months, I ended up being flown from event to event to share what I'd discovered with larger and larger groups of founders, entrepreneurs and CEOs.
Then, last fall, I decided to take it a step further… In November, put up a simple post announcing a webinar where I'd teach what came to be known as the "Consumer Revolution Framework." Within hours, more than 6,000 people from around the world raised their hands to participate, and we had to add overflow webinars to handle the rush.
In those webinars, I shared the highly-detailed 18-step roadmap to engineer your own rapid-growth, movement-fueled endeavor. And, again, the response took my breath away. Our entire team, to be honest, was left a bit gobsmacked! Even though I'd seen the response firsthand in the live events, the scale of what was happening was overwhelming. And completely unplanned.
Well, it's been nearly a year, and I've got something new for you…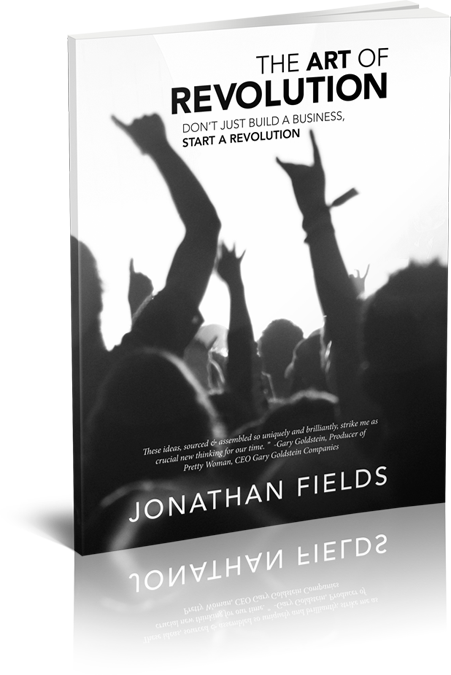 Today, I'm publishing a new 66-page guidebook entitled The Art of Revolution: Don't Just Build a Business, Start a Revolution. In it, you'll get the full 18-element framework, along with newly-expanded insights and case-studies to help you apply the framework to grow your own venture.
And, here's the coolest thing, just like the original webinar…
It's FREE and you can DOWNLOAD IT INSTANTLY (PDF and audio versions)
As in…right now!
It doesn't matter whether you're looking to launch a career, fill a theater or gallery, build a brand or a grow a company. As long as it's mission-driven, this framework will help you move the needle in a profound way. Provided, you DO THE WORK. Because nothing truly extraordinary happens without vision and effort.
And, if you prefer to listen on the go, you'll also get instant access to the audiobook version.
Yeah, that's free, too. I only have one ask in return…
Read it. Listen to it. Then ACT ON IT!
Go create something to believe in and something to belong to.
Because, the world needs that right now.
And, it's a safe bet, so do you.
Get immediate access now (PDF and audio versions) for free
With gratitude,
Jonathan
P.S. – You guys know how I feel about being up-front, so I just wanted to give you a quick head's up. At the end of the 66-page guidebook, you'll see an invite to learn more about our RevolutionU™ training program. In fact, if you've already seen the webinar and you've just been waiting for us to re-open the training, you can just head on over (though the manifesto will give you great new insights, too). If you feel called to learn more, that's cool. And if not, that's absolutely fine as well. You'll still get a ton from diving into the entire framework that's shared in the guidebook manifesto.
Join our Email List for Weekly Updates
And join this amazing community of makers and doers. You know you wanna...
20 responses
20 responses to "18 Ways to Kickstart Your Revolution"