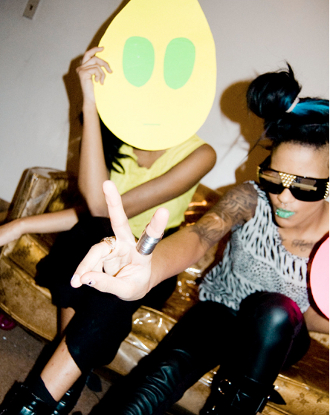 Today's Good Life Project is so different from all prior episodes.
My guests are 20 year old minnesota twins, Coco and Breezy Dotson.
At 19 years old, they took their funky vibe, creativity and insane work ethic to NYC to see what they could do in the world's fashion mecca. What happened next, though, surprised even them.
From the show notes:
With only a few dollars in their pockets, they began making their own bold sunglasses out of a tiny shared apartment. Almost immediately, people began approaching them in the street to ask where they bought their sunglasses and offering to buy them "off of their faces."
The brand took off. In a few short months, Coco and Breezy's unique shades began appearing on the likes of Kelly Osbourne, Lady Gaga, Nicki Minaj, Beyonce, Serena Williams and other mega-celebs. And, now, they're expanding the business into a variety of new verticals.
But, it wasn't all serendipity. Insanely hard work, street smarts, a sixth fashion sense and willingness to be authentic and walk to their own drumbeat and give back drove the rapid ascent.
Dive into their story now over at Good Life Project.
You Don't Need a Bribe To Join This Tribe
Plain and simple. Did you enjoy what you just read? Cool, then get more in your inbox every week. And join this amazing tribe of makers and doers. You know you wanna...
responses